Former NHL Goaltender | Mental Health Advocate | Motivational Speaker
No job in the world of sports is as intimidating, exhilarating, and as stress-ridden as that of an NHL hockey goaltender. Now imagine doing that job while suffering high anxiety, obsessive compulsive disorder and depression, and having your career nearly literally cut short by a skate slicing across your neck. Clint Malarchuk shares his extraordinary and heart-wrenching life story—which includes his long battle with alcoholism and almost ending his life by a gunshot to the head—in his relentless effort to help end the stigma of mental illness and to help others who may suffer as well.
Malarchuk, who was born in Grand Prairie, Alberta, and raised in Edmonton, played junior hockey in the Western Hockey League. He went on to play professionally in the NHL for the Quebec Nordiques, the Washington Capitals, and the Buffalo Sabres, and in the IHL for the Las Vegas Thunder. He compiled a career record of 141 wins, 130 losses, 45 ties, 12 shutouts, and an .885 save percentage.
After leaving the NHL as a player, he served as head coach of the IHL Las Vegas Thunder and the Idaho Steelheads. He was then a goaltending coach for the NHL Florida Panthers and the Columbus Blue Jackets. He became the goaltending consultant for the Atlanta Thrashers in 2010, going from there to the Calgary Flames, and retiring from the team in 2014.
His memoir, The Crazy Game: How I Survived in the Crease and Beyond, was published in 2014.
Testimonials:
in short, Clint was amazing….His breakfast presentation was incredible. He got a standing ovation to start and to finish. The video, and his genuine reaction to it, was emotional, poignant, and powerful.  The response from the sponsors and general public alike was unanimous…they enjoyed his humour, honesty and jokes!….The bottom line, he more than earned his fee and was inspirational to be around.
Red Deer College
After facing tremendous challenges both on and off the ice, Clint Malarchuk talks about his life experiences with both humour and raw emotion.  He had his audience gripped and motionless the entire time, until they erupted with a standing ovation at the end of his talk. Seasoned professionals can learn a thing or two on how to read and engage an audience from Clint.  He was truly outstanding.
Ontario Stone, Sand & Gravel Association (OSSGA)
Clint did an excellent job again. He received a standing ovation in the morning. His new keynote address on PTSD was the big surprise for us. As always, he presented in a very articulate and relatable way, but when he opened it up for a Q&A, that is when the magic happened – networking on a powerful subject matter, that made everyone in the room feel like they all had a common bond. After he completed both speeches, he spent quite a bit of time with a few people, and they greatly appreciated his time. Feedback from everyone in attendance was excellent.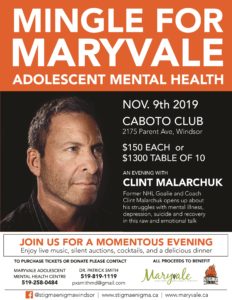 Program Lead, Events Programming and Delivery, Workplace Safety & Prevention Services